LaFosse & Alexander's Dollar Origami: Convert your Ordinary Cash into Extraordinary Art!

by Michael G. LaFosse and Richard L. Alexander
Spiral-bound paperback (7 x 10 inches, 96 pages) with DVD
Tuttle Publishing, October 2013
ISBN-13: 9780804842747

These days, a dollar won't get you very far, but—in the right hands—a dollar bill can become a work of art.

In LaFosse and Alexander's Dollar Origami, the world-renowned origami artists and co-founders of the eminent Origamido Studio share twenty incredible creations specifically designed to be made out of dollar bills. Folded money models are wonderful gifts and conversation pieces, and this book makes it easy for you to get started with projects ranging from "very simple" to "challenging". In addition to the unique and exclusive collection of twenty paper folding projects, the book includes:

Step-by-step instructions
Origami diagrams
48 tear-out practice "dollar bills" with quick-start folding lines for the first five projects
An instructional DVD with more than three hours of lessons, detailing each project in the book
It's no wonder that more and more people are realizing how fun dollar bill origami can be. Printed currency is easy to fold, remarkably durable, intricately patterned, and readily available. Whether you're making The Windmill Pillow, Prosperity Bamboo, The George Washington Knot, or Drahcir the Dragon, you—and your friends—will be delighted with the results!
The book and accompanying DVD contain instructions for folding: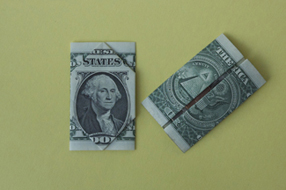 designed by Richard L. Alexander
Lee's Coin Pouch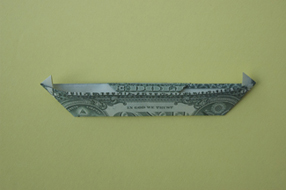 designed by Richard L. Alexander
Canoe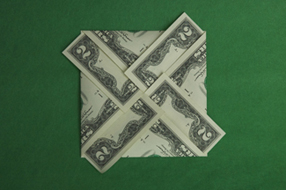 designed by Richard L. Alexander
Windmill Pillow Tile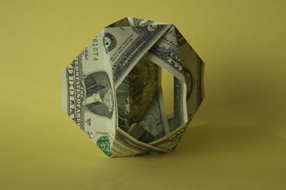 designed by Richard L. Alexander
Lantern Puzzle
designed by Richard L. Alexander
George Washington Monument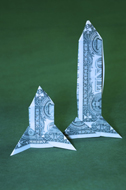 designed by Richard L. Alexander
Richie's Rocket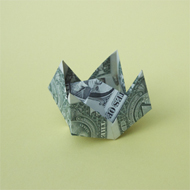 designed by Richard L. Alexander
Two-Dollar crown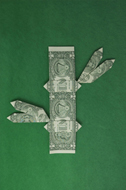 designed by Michael G. LaFosse
Prosperity Bamboo and Bamboo/Orchid Leaves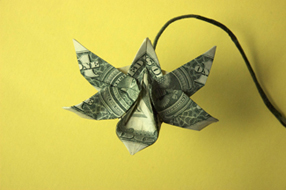 designed by Michael G. LaFosse
Orchid
designed by Michael G. LaFosse
Sitting Bunny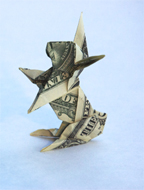 designed by Michael G. LaFosse
Standing Bunny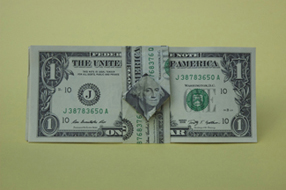 designed by Richard L. Alexander
George Washington Knot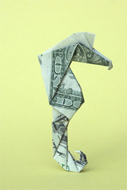 designed by Michael G. LaFosse
Reef Pony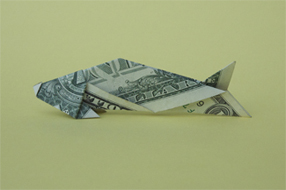 designed by Michael G. LaFosse
American Shad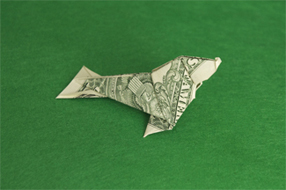 designed by Michael G. LaFosse
Great Seal
designed by Michael G. LaFosse
Teddy Bear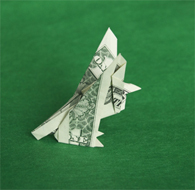 designed by Michael G. LaFosse
Standing Eagle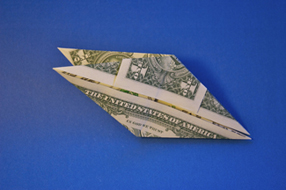 designed by Richard L. Alexander
Three-Dollar Bird Base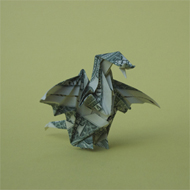 designed by Michael G. LaFosse
Drahcir the Dragon