Origamido Studio was founded in November, 1996 by Richard Alexander and Michael LaFosse to provide a teaching and resource center, exhibits gallery, and a production facility for fine and decorative paperfolding arts.
Richard L. Alexander
Richard L. Alexander holds a B.S. from Cornell University, where he studied systems biology (computer modeling of nutrient and energy flow through ecosystems) as well as landscape architecture and visual communications.
As a Certified Hazardous Materials Manager (CHMM), he has been an environmental programs manager, consultant and an instructor since 1975, specializing in chemical handling, aquaculture, wastewater treatment, hazardous waste management, chemical safety, and ISO14001 - the international standard for certifying environmental management systems in government and industry.
He opened the Origamido Studio in 1996, with his partner, origami master Michael LaFosse, and together they operate a commercial design studio, handpapermaking facilities, and fine art gallery in Haverhill MA.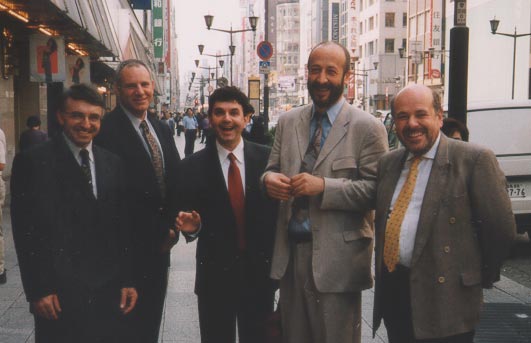 (L to R) Jonathan Baxter, Richard Alexander, Michael LaFosse, Eric Joisel and David Brill
(Tokyo, 1999)
Michael G. LaFosse
Michael G. LaFosse is best known as a paper maker and paper folding artist. He has been practicing the art of Origami for over 40 years, and has been teaching it for over 30 years. Michael is internationally regarded as one of the top origami masters in the world today.
Born in Fitchburg, Massachusetts, he was fascinated by sea shells and studied to become a biologist. This is evident in his works - many of which have been shown in the Louvre in Paris, and several of which are currently on display at the Art & Nature Center's Idea Studios at the newly re-opened Peabody Essex Museum in Salem.
His training in Biology took him to Tampa, and he will return to Florida in the spring of 2004, to study Everglades animals and plants that he intends to re-create in folded handmade paper. His exhibit will travel, and will first be shown at the Morikami Museum in Del Ray Beach, Florida.
A similar internship in 1997 at the Arizona-Sonora Desert Museum in Tucson created a spectacular show attended by over 40,000 people. Many of his works from that show are displayed in his hardcover book, "ORIGAMIDO - Masterworks of Folded Paper".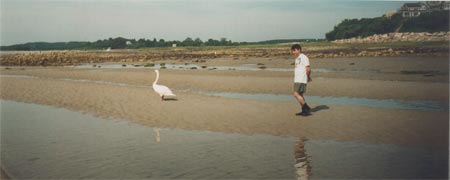 Michael studying wildlife up-close at the beach.
Michael and his partner, Richard L. Alexander have authored dozens of books on the art of origami. They have tens of thousands of students all over the world learning origami from video and DVD.
They produce new origami designs, fine art, and commercial art - from props for magazine and TV ads to retail store windows for Saks Fifth Avenue and Hermes.
About our name
The term "Origamido" was coined by Michael LaFosse to express his philosophy for study of the art of origami. Though not a word in regular use in Japanese, it comes from three Japanese words:
| | |
| --- | --- |
| ori | from the root of the Japanese verb "to fold," oru |
| gami | from the Japanese word for paper, kami |
| do | the word for "way" or "path," commonly used to refer to the study of traditional and martial arts as in Chado (the Way of Tea; tea ceremony), Shodo, (the Way of Writing; calligraphy) and Karatedo (the way of karate, the martial art.) |
Thus, "the way of folded paper."
It is pronounced "oh-rih-gah-mee-doe" with no particular emphasis on any syllable. To write the sound of the final "o," in romanized Japanese, it is properly transliterated with a bar, or macron, over the "o." As this accented character is not reliably viewable on all web browsers and platforms, we typically leave off the macron when writing the studio name in text, but use it formally for logo artwork and the like.