People are intrigued with paper and paperfolding. An elegant origami design captivates with its beauty and simplicity. In a world full of slick, mass-produced, and even computer-generated images, origami stands out as imaginative, handmade and refreshingly direct.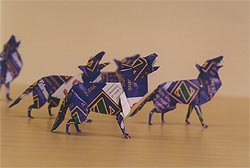 Origamido Studio specializes in designing folded paper and paper art creations for a huge variety of purposes. Some clients are focused on the image of the final product - others emphasize the process or experience (fun) of doing a simple origami project. Is origami suitable to your product, needs, or budget? The following will help you answer these important questions:
Origami Design:
Original origami designs take time to engineer and will cost more than utilizing existing origami designs. We can use existing designs, to save time and money, but only after receiving written permission from the designer(s) when the chosen designs are other than our own.
An origami design is a form of intellectual property. Many assume that origami designs are all "public domain." It is a mistake to believe this. Proper research should be done by someone who is thoroughly familiar with today's international origami art scene whenever you plan to use someone else's design for commercial purposes.
We are in touch with hundreds of talented origami designers from around the world, and we are familiar with their works and styles. If an existing design is to be selected for your project we can help you make the right choices and facilitate your connection to these designers. Check out our book, Origamido: Masterworks of Folded Paper to get an idea of the possibilities
Origami Production: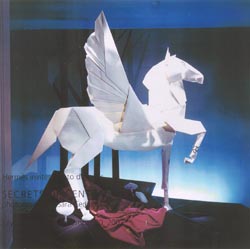 You should allow the same kind of timeline that normally would be afforded to the design and construction of any other complex model-making project; including the production and review of maquets. Our experience, high standards and top technical skills are well worth the required time.
Terms: Each project accepted by Origamido Studio requires a $1500.00 upfront retainer. This represents our minimum fee for custom work. Turnaround will largely be determined by the complexity of the design and and by the scheduling of any other contract work that we may be obligated to at the time of your order. Our design and production rate is $75 per hour. Reasonable reimbursable expenses will be billed to the customer. We can give you an estimate of project cost and completion time based on your description.
We do not accept work-for-hire contracts and we retain all copyrights to any original artwork that we produce. Work commences after receipt of retainer and the proper contracts have been reviewed and signed.
For more information, please contact us.